Regular price
Sale price
$5.99
Unit price
per
Sale
Sold out
Tomolives: 8oz of Pickled Perfection for Martini Lovers & Flavor Aficionados
Discover the irresistible taste of Old South Tomolives® - now available in a convenient 8oz jar, perfect for sampling or gifting! Since 1947, these extraordinary pickled green tomatoes have been redefining the martini garnish and relish tray experience with their unrivaled flavor and charm.
Cultivated from Old South's exclusive seeds, our hand-picked tomatoes are meticulously cured and finished in small batches to ensure the finest quality and taste. Tomolives® are not just any olives, but a delectable pickled treat that will become your go-to garnish for martinis, Bloody Marys, and beyond.
Each 8oz jar is packed with gluten-free and kosher Tomolives® - the ultimate choice for your next cocktail party, casual brunch, or intimate gathering. Their crunchy, tangy flavor is an unexpected delight for your palate and is guaranteed to enhance any relish tray or appetizer selection.
Treat yourself to the time-honored taste of Old South Tomolives® from Gourmet Passions, and allow their distinct flavor to elevate your favorite drinks and dishes. Grab your 8oz jar today, and let the remarkable Tomolives® win you over with their pickled perfection!
Share
View full details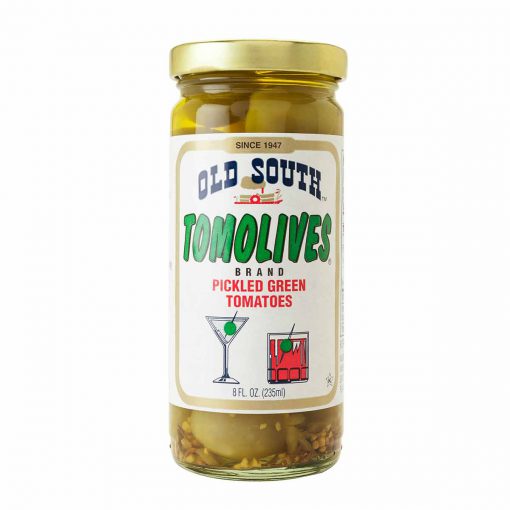 Tomolives are an interesting twist on the condiments one can add to a martini - a tomolive, actual olive and cocktail onion makes a nice combination.
I've had this brand as well as Haddon House (now UNFI?). As far as I can tell they are pretty much the same. Unfortunately I very rarely find in grocery stores these days and they are rather expense to buy online when you factor in shipping costs. Even sites that don't charge for shipping seem to hike the price to cover the costs.
But I was happy to find them at Gourmet Passions and the shipped them quickly. I just have to consider them a delicacy and not eat them all at once -- or even all at twice.
Had these for the first time in a Martini (grudgingly) and they are a fabulous upgrade from boring old olives...sold out everywhere...so glad you had them!
Fun alternative to the normal beverage condiments!